What's CEREC technology you ask? If you have ever needed a crown for a tooth and spent two weeks with a temporary one while the lab was making the permanent option, then you know the frustration and sometimes, pain, of that waiting period. Fortunately for you, there is a process called Chairside Economical Restoration of Esthetics Ceramic (CEREC) that saves you time, money, and annoyance when it comes to getting a crown.
Although CEREC technology has actually been around for nearly three decades, many patients have no idea that this process is an option. Here are five things to know about CEREC tooth restorations that you will love learning:
1. CEREC Is Tried-And-True
The CEREC process is not a new one. In fact, there are about 30 years' worth of success stories associated with this process, and dentists around the world use CEREC. That includes Dr. Pat Crawford of Kenosha, Wisconsin, who adopted the technology to help his patients get their crowns faster.
2. CEREC Doesn't Taste Bad
If you have ever been fitted for a "traditional" crown, you know just how nasty the molding process can taste. CEREC doesn't taste bad! In fact, it doesn't taste at all.
3. CEREC Makes A More Accurate Model Than Traditional Molds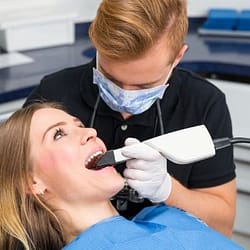 CEREC technology is more accurate than the traditional "molding" methods of creating crowns, dental implants, veneers, onlays, and inlays. Some orthodontists even use CEREC to design orthodontic appliances so they can avoid the traditional models that have to be sent to a lab.
4. CEREC Takes Only One Visit
Hate visiting the dentist, or just hate having to take time off work or away from family? CEREC technology usually only requires one visit and does not necessitate the same number of needles and drilling that traditional crowns and other types of tooth repair usually require. "Patients endure fewer needles and less drilling, and the technology allows crowns and veneers to be done in one visit so patients can be on their merry way," explained Dr. Crawford.
5. CEREC Is Less Expensive That "Ordinary" Crowns
CEREC crowns typically range from $500 to $1,500, although every patient's needs are different. By comparison, traditional dental crowns can easily cost double that, especially by the time office visits and lost work time are factored in!
Ask Your Dentist About CEREC Today
Whether you want veneers to brighten your smile or need a crown to help you protect that tender tooth, CEREC technology could be the best option for you. Talk to Dr. Pat Crawford of Kenosha, Wisconsin, about your options, and be "on your merry way" in no time.