At Dr. Pat Crawford's dental practice in Kenosha, Wisconsin, we have always strived to prioritize your health – oral and otherwise. After all, Dr. Crawford, like all doctors, is here specifically to improve your quality of life by helping you maintain your good health!
However, many people assume that dental health is an isolated part of their lives. Especially with the advent of COVID-19, they wonder if dental professionals can really enact safe practices and still do their jobs. The truth is that it has not been easy to practice dentistry in a world where ideally we would all remain six feet (or more) apart, but our practice is determined to prioritize your health – including but definitely not limited to your oral health – today and every day. 
If you have been struggling with the decision about returning to the dentist, here are five compelling ways we prioritize your health at Dr. Crawford's dental clinic:
1-We sanitize everything regularly and intensely.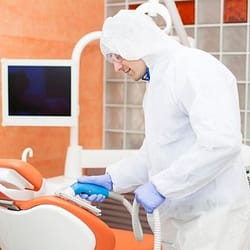 Thanks to our access to the latest dental technology, we also have access to the most modern methods for sanitization and sterilization in our field. Not only are our rooms sanitized between patients, but we believe in using the latest technology and techniques to make sure everything is as clean and safe for you as possible. In fact, our office exceeds the Occupational Safety and Health Administration (OSHA) safety standards in addition to surpassing American Dental Association (ADA) 2020 standards for health and safety. 
2-We believe it is our responsibility to educate our patients.
Whether you are a first-time patient or a regular who has been coming here for years, you will never leave with a question unanswered if we can help it! We believe one of the most important things we can do as oral health professionals is make sure our patients understand why we recommend certain treatments and what options they have for dealing with oral health issues and maintenance.
3-We respect your wallet and your priorities.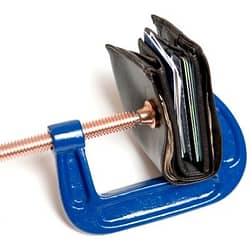 Sometimes, you have to make hard choices when it comes to your oral health, and this is particularly true in today's world where many families are feeling financial pressure and even losing access to traditional dental insurance. At Dr. Crawford's clinic, we will work with you to select the best treatment option possible and help you figure out how it will affect your bottom line. Because Dr. Crawford has the training to perform many procedures in-house, we are often able to offer services at a lower cost than others in our field.
4-We offer it all.
Speaking of in-house, we even handle denture repair, partial fittings, and bridgework handled in the comfort of our clinic. Because our services are considered "comprehensive" in the industry, we are able to help our patients in the comfortable, familiar, trusted setting of the Crawford dental clinic. Whether you need a basic cleaning, air abrasion drill-less dentistry, Botox, a root canal, dental implants, or something else altogether, we work with you on-site to deal with the problem — just another way we prioritize your health. 
5-We update our procedures daily if necessary.
As more information emerges about the ongoing COVID-19 pandemic, we are carefully tracking medical guidelines and our own in-house protocols to make sure we are going above and beyond to keep you safe while you are with us. To that end, we have made some visible changes to our office (such as removing toys and magazines from the waiting room) and some invisible ones (like implementing a variety of health protocols for both patients and staff). Rest assured, every measure has been taken to prioritize your health and the health of your loved ones during every dental visit. 
Don't Skip That Checkup In 2020
Dental health is hard to get back once you lose it, so regular dental checkups are a must no matter how much you might want to put off that bi-annual visit. If you have been postponing your dental appointment out of concern for your health, your safety, or your family budget, Dr. Crawford's practice is ready to help you accommodate all your concerns and get that smile gleaming once again!
Learn more about Dr. Crawford's dental clinic and our current COVID-19 safety protocols by visiting our website at PatCrawfordDDS.com.