Dentistry is riskier than you probably think… for your dentist or dental hygienist. While most dental patients thought little about the safety of routine dental checkups prior to the COVID-19 pandemic, dental practitioners have known for years that their chosen profession places them in close contact with potential viral infections. After all, they literally spend hours a day just inches away from wide-open mouths generating tiny droplets of moisture, called aerosols, that can travel through the air, be breathed into the lungs, and may carry viruses and other illness. Those aerosols might not have been on your mind, but they certainly were a consideration for your dentist!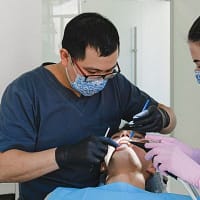 Since the coronavirus reached the United States, however, aerosols have been on everyone's mind. Most dental patients understand they will have to wear a mask in the waiting room, have their temperature taken, and should not visit the dentist (or anywhere else) if they have a fever or have been exposed to someone who has coronavirus. However, what they may not be expecting is for their dentist and dental hygienist to have quite a different look when they appear overhead to do a routine cleaning.
Understanding what your dentist is wearing these days in terms of COVID-19 safety gear can help you feel confident that you and your valued practitioners are both taking every precaution when it comes to staying safe and coronavirus-free.
Facial Protections Are Bigger And Better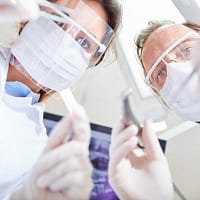 If you visited the dentist 30 or 40 years ago, your dentist probably smiled at you with no face mask or other covering whatsoever as they cleaned your teeth. Over the past few decades, dentists have begun wearing paper masks and, in some cases, plastic goggles to protect their eyes from errant sneezes and patients' other moisture-producing oral actions. In today's dental office, you will probably see these masks and goggles taken one step further, with CDC guidance recommending either N95 masks or surgical masks and face shields. These shields are bigger and look more like a windshield than the more familiar safety goggles.
The N95 mask, which may also be called an N95 respirator, is a multilayered, particle-filtering face piece that filters about 95 percent of airborne particles. Although it does not protect the wearer from gases and vapors, it can help with aerosols produced when a dental patient breathes out during a cleaning and with the spray associated with some types of plaque and tartar removal. If your dentist has someone at higher risk of COVID-19 complications in their household, you are likely to see these masks at your next office visit. At a minimum, you will certainly see heavy paper masks or cloth masks on your next visit.
Dentists Are Looking More Like Surgeons During COVID-19
When you visit the dentist, you probably expect to see your hygienist in scrubs and, in all likelihood, your dentist in a white lab coat or doctor's coat. These days, however, that familiar sight will probably be replaced with one that would be more familiar in a surgical theater, since the CDC is recommending everyone in the office wear masks and gowns at all times. Your dentist may be changing clothes or changing their gown between each patient, so a paper gown covering the familiar scrubs or white coat should come as no surprise. It's just one more way to keep you safe!
Learn more about what the #1 dentist in Kenosha, Wisconsin, is doing to keep patients safe by visiting PatCrawfordDS.com.