Early in the COVID-19 pandemic, the CDC asked dental offices to suspend "non-urgent" visits and surgeries in order to reduce the risk of the spread of coronavirus. Today, however, those bans have been lifted, with both the American Dental Association (ADA) and the CDC saying dental teams should "weigh the risk in their area" against the need to provide care for patients. As dental health is directly linked to many other facets of physical and mental wellbeing, most dentists are starting to see patients once again, albeit with stringent safety measures in place.
Extra Precautions Recommended By American Dental Association
At the offices of Dr. Pat Crawford in Kenosha, Wisconsin, patients are welcome to visit the office for regular appointments and, of course, if they have a dental emergency. Like other medical practices, Dr. Crawford's office is taking extra precautions at this time based on American Dental Association guidelines, including: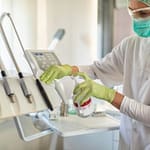 Removing reading material and toys from the reception area
Regularly wiping down all surfaces with disinfectants recommended by the CDC to combat the spread of coronavirus
Checking patient temperatures before admission
Requiring patients to remain at home if they are experiencing any cold or flu-like symptoms and helping with rescheduling to make the process smoother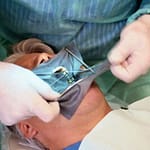 Other things that may apply to your specific visit that can help keep you safe include careful, frequent sterilization of the offices themselves, use of disposable tools when possible, and sterilization at high heats or using cleaning supplies shown to kill the virus when not, and use of protective gear on the part of patients and practitioners. For example, some patients may be required to wear a rubber dental dam, already a common fixture in certain types of dental surgery, to keep the oral area especially clean and sterile. Dentists are also placing waiting room chairs farther apart, asking patients to limit the number of people accompanying them on a visit (especially children), and requesting patients not arrive early.
The best way to keep everyone involved in your dental care safe is to talk directly with your dentist about the processes they have in place, and additionally, ask them how you can best work within their guidelines. At Dr. Crawford's practice in Kenosha, Wisconsin, the professionals there are doing everything possible to keep every single patient healthy both in terms of their oral health and in terms of their overall wellbeing. This means it is important to keep those regular dentist visits going, but you might need to do a little more planning than used to be the case!