If you have always wanted a "Hollywood smile" but figured the cost of veneers in Wisconsin was prohibitively high, think again.
The cost of veneers in Wisconsin can be intimidating. After all, since veneers are considered cosmetic dentistry, it can be difficult to convince your insurance company to cough up hundreds or thousands of dollars per tooth to get that gleaming smile.
How Can I Keep The Cost Of Veneers Down?
Fortunately, there are several options for keeping the cost of veneers under control. Also, once you do invest in your smile, you will be able to prolong the life of your veneers with regular, specific cleaning practices that will extend the beautiful look of your smile for years longer, thereby reducing the overall cost of the installation.
First, there is a slim chance that a state- or federally sponsored program may provide you with veneers if your age qualifies you and you have the "right" type of dental condition. These programs are very specific and usually geared toward younger individuals with unusual damage to their teeth that would make veneers particularly essential for their growth and well-being. If your dentist has told you that veneers are medically necessary for you, then you may qualify for these programs. Be sure to ask your dentist if he or she has any suggestions.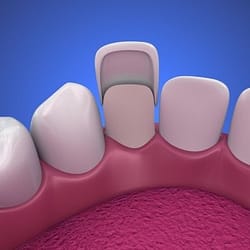 Since most people do not have a medical need for veneers, you will likely have to look elsewhere to make the cost of veneers as manageable as possible. Some dental plans do offer some coverage for veneers, which your dental insurance provider will probably refer to as "dental laminate." Additionally, many patients find that discount dental membership plans can help them put a dent in the cost of their veneers. Some offer discounts of up to 60 percent off, but they may limit the number of procedures you can have done in a year.
Although many people go to dental schools to get their annual cleanings at a discount, we generally recommend against letting a student practice on you for this cosmetic procedure. Poorly installed veneers are costly to remove and can cause health problems in the future. Instead, be willing to call around to find out rates from multiple dentists. If you cannot afford the cost of veneers with your current dentist, see if he or she has a recommendation for another practitioner who may offer a lower-cost option or if your dentist has installment options. An honest, reliable, reputable dentist will be able to offer you competitive rates, an honest estimate of cost, and a basic explanation for how those numbers came to be.
Don't let the cost of veneers in Wisconsin intimidate you so much you do not even investigate your options.
Dr. Pat Crawford's dental practice is located in the heart of Kenosha, Wisconsin. He is known for his affordable rates, patient-oriented practice, and cutting-edge technology. Learn more about Dr. Crawford and get an estimate for veneers in his practice at PatCrawfordDDS.com.