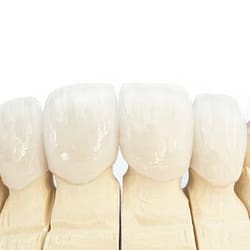 When you hear the words "dental crowns", you probably don't associate the word "easy" along with it. Many people have the misconception that having dental work and needing a dental crown needs to be a long and painful experience. While at some dental offices that may certainly be true, that is not the case with Dr. Pat Crawford.
How Does Dr. Crawford Make Dental Crowns Easy?
Dr. Crawford is known as the only dental crown dentist in Kenosha who makes zirconium crowns. This is vital because zirconium crowns are much stronger than average crowns, which are beneficial for people who tend to grind their teeth.
Dr. Crawford is also a crown dentist in Kenosha who doesn't amputate the healthy tooth structure when restoring the diseases part of the tooth with an onlay.
Many dentists take out the healthy tooth to make way for a full crown. This makes it necessary for the patient to need a root canal underneath a full crown because the nerve is killed off.
At Dr. Crawford's office, only the diseased part of the tooth is taken out and restored. This helps to save the tooth structure and doesn't aggravate the nerve as much.
How Do I Know If I Need A Dental Crown?
You should be on the lookout for a dental crown dentist in Kenosha if you are in need of:
Protecting a weak tooth

Restoring a fractured tooth

Cover a tooth that has had a root canal

Replace a large filling if there isn't enough natural tooth
Many times your dentist will notice one of these conditions and advise you that a dental crown is your best option to protect your smile and the rest of your teeth.
Before you get a dental crown, be sure to ask any questions you may have. Pat Crawford DDS also offers same-day dental crowns with CEREC crown technology. 
Contact Us!
If you're looking for a crown dentist in Kenosha, look no further than Dr. Pat Crawford. Dr. Crawford is highly experienced when it comes to dental crowns and will explain the process to you and how easy it can be.
Call the office today at 262-649-9436 or fill out this online form. We look forward to meeting you