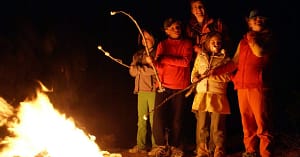 It is summertime, which means it is time for camping and campfires — and what would a campfire be without s'mores?
S'mores are that delectable, must-have, summer fun treat that have been around for decades. The Girl Scouts started making them in the 1920s. The name "s'mores" came about because, after tasting just one bite, campers started begging for "s'more".
Campers make s'mores by sandwiching a campfire-roasted marshmallow and chocolate in between graham crackers. A delicious snack as you tell ghost stories around the fire, but what would your dentist say? Read on for the low-down of how s'mores can affect teeth, compliments of Dr. Pat Crawford!
Marshmallows
A large marshmallow typically used in s'mores has about 4 grams of sugar — that's a lot for one treat.
Even worse is that, for s'mores, you use a roasted marshmallow, which means it is melted, sticky, and gooey. This can mean bad news for people wearing braces, as the gooey marshmallow can get in between braces and can be hard to get off. This stickiness can also be bad for people wearing dentures.
Graham crackers
Graham crackers have a subtle sweet taste, which is why they go so well with the very-sweet marshmallows and chocolate! And, graham crackers have less sugar than most other types of cookies, with around 2 grams in one cracker.
Chocolate
The good news for chocolate and s'mores lovers is that research has shown that chocolate can actually be good for teeth!
Of course, you have to make sure you get the right kind of chocolate. Dark chocolate, with at least 70% cocoa, has many health benefits, even for teeth. It is high in antioxidants, which can help to fight gum disease. It is high in tannins, which can keep bacteria from sticking to teeth. It is a good source of polyphenols, which can prevent bacteria in the mouth from turning sugar and starches into tooth-harming acid. These can also neutralize microorganisms that cause bad breath (polyphenols are also showing promise in fighting cancer and reducing hypertension and stroke). This kind of chocolate also has a special type of flavonoid that slows tooth decay.
S'mores are a part of summer, and you'll no doubt want to join in the fun when you are out camping and someone suggests it is time to make this treat. If you do indulge in s'mores, it is best to use dark chocolate with 70% cocoa — why not reap a few health benefits while enjoying your treat?
And, of course, make sure you take good care of your teeth afterward. Rinse your mouth out with water, and brush and floss thoroughly to make sure you get that gooey marshmallow off of your teeth!
When you get home from that camping trip, don't forget to come and see Dr. Pat Crawford for your dental check-up — or if you experience tooth pain after biting into a s'more! Call Dr. Crawford at (262) 649-9436 and make an appointment today!