Whether you keep regular dental appointments or you have not seen the dentist in years, finding the best dentist for you can be difficult. For some people, the need to find a new dentist ends up causing them to simply stop visiting the dentist completely, while others put off the move indefinitely because a fear of the unknown is worse than a dentist that is not a good fit. If you are looking for the best dentist in Kenosha, Wisconsin, then you can tackle the process from several angles. This multifaceted approach will help you find the best dentist for you and make your next dental appointment with confidence.
Find The Best Dentist: Experience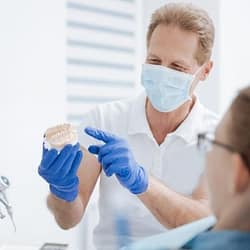 First of all, look for a dentist with experience. A dentist with years of experience doing hard dental work like root canals, implants, and other oral surgeries is a true find for patients. If your dentist has experience in these areas, they will be able to treat you more quickly without referring you out to another practice in the event you need this type of procedure. When you are experiencing tooth pain, this type of speed is priceless.
If you believe you may need dental surgery, you can also look at the dentist's credentials. Two honors programs, Honors Perio and Honors Operatives, indicate a dentist is not just qualified to perform surgery but also highly skilled at doing so.
Find The Best Dentist: Office
Once you have ascertained that a dentist has a great resume and will be able to perform all the dental procedures you might need to have in-house, it's time to look at their dental office. This does not just mean you are checking out current accommodations and adjustments made to keep patients safe from the novel coronavirus COVID-19; it also means ascertaining that the dentist's office has the best technology available for patient comfort and effective oral cleaning.
For example, modern dentists often employ large television monitors to help them effectively view your mouth in detail. Many dentists also offer sedation dentistry these days in order to help "skittish" patients feel better about dental visits. If this is on your list of must-haves, then be sure the dentist has all the equipment needed to help you feel comfortable and relaxed about your visit.
Find The Best Dentist: Location
Finally, the best dentist in Kenosha, Wisconsin, should be conveniently located to you. After all, if you have a dental emergency, you will not want to drive an hour just to get to the dentist's office! Location and proximity to your home is important, but we list it last because many patients opt to drive a little farther in order to see the dentist that is the best fit for them. An office in the heart of Kenosha, however, is a big plus when it comes to convenience.
Learn more about Dr. Pat Crawford's dental practice in Kenosha, Wisconsin, by visiting PatCrawfordDS.com.