You know your dentist values you as a patient and does the best he or she can when it comes to your dental care. However, not every Kenosha, Wisconsin, dentist has the resources or training to leverage the latest dental technology effectively for your dental health.
In an article published in the Journal of the American Dental Association, a dentist and researcher warned, "Dental practitioners are faced with a myriad of high-technology tools. Many purchase these tools without fully understanding how to use them." The author goes on to demonstrate in a traditional research model that many practitioners not only do not manage to use dental technology to enhance their practice, they actually sometimes end up delivering a less effective treatment model as a result of forcing technology into a practice not prepared to effectively utilize it.
Pretty scary, right? You bet. Very scary.
So, how can you tell whether your Kenosha dentist is using the best and latest dental technology to your benefit? Well, the first thing is to be aware, for yourself, exactly what is out there and what it is used for. Here are a few common examples:
Screens & Cameras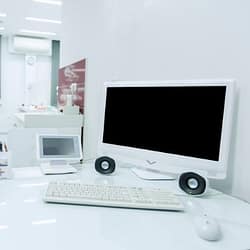 For years now, it has been common practice in the dental industry to use X-ray technology to identify "invisible" issues with the teeth and gums. However, new imaging technology has made the use of small cameras an integral part of any modern dental practice.
However, just having a camera to take pictures is not enough. Your practitioner also should have large screens (around 70 inches) for viewing these pictures in order to make sure they can effectively view every nook and cranny. It doesn't matter how high-resolution the images are if they are viewed on a screen that is too small to show the details. To make matters worse, a practitioner relying heavily on this type of dental technology may be prone to assuming if an issue is not apparent in the photos, there probably is no issue at all. That is a dangerous assumption for you if the technology is not paired with the right display tech.
Zirconium Crowns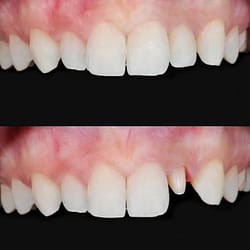 You probably know that a dental crown is used, sometimes in conjunction with dental implants, to replace missing and decayed teeth. Conventional crown materials include porcelain, which appears very natural but is prone to chipping, and gold, which is relatively inexpensive but tends to be unsightly and can cause allergic reactions. Recently, some dental practices have begun using zirconium to create crowns because they appear natural, are very unlikely to be associated with infections or reactions and are very strong and durable (zirconium is related to titanium!).
At first glance, zirconium sounds perfect, but a practitioner who does not have the right dental technology training and education can actually place them incorrectly in your mouth and do more harm than good. Not every tooth is the right candidate for a zirconium crown; the zirconium can wear out opposing teeth because zirconium is a crystal that is much, much stronger than natural teeth. Also, a dentist must know how to look for decay under the zirconium crown once it is installed because the zirconium crown is so tough that underlying decay will not be evident for quite some time and many dentists fail to detect it.
CEREC Dental Technology
CEREC dental technology is actually nearly three decades old, and patients love it because it uses computer-generated images to expedite the creation of a dental crown. CEREC eliminates the need for you to wait two weeks for a crown and can reduce the number of visits you must make to the dentist during the process while also reducing or eliminating the need for drilling and needles.
Patients and practitioners alike love CEREC, but the process does require careful, expert reshaping and polishing of the crown during the final phase of the process. If a dentist has focused mainly on learning how to take the computerized photos and create the computerized models, they may neglect the highly specific process of shaping and ceramic restoration that results in a perfect fit. Then, the crown does not hold as it should, and your time saved quickly becomes time lost and extra money spent.
Your Kenosha Dentist Owes You Cutting-Edge Dental Technology & The Expertise To Go With It
At Dr. Pat Crawford's practice in the heart of Kenosha, Wisconsin, we love our dental technology and the benefits it brings our patients and our practice. However, we never "roll out" new dental technology until everyone involved is not only certified and/or trained for its use, but until everyone is comfortable and competent using that technology for its intended use. That is just one feature of Dr. Crawford's practice that leads patients new and old to say Dr. Crawford is the top Kenosha dentist!
Dr. Crawford's practice is located in the heart of Kenosha, Wisconsin. His patients travel from more than 30 miles away (in some cases) to have Dr. Crawford and his team work on their teeth. Learn more about Dr. Crawford by visiting PatCrawfordDDS.com.