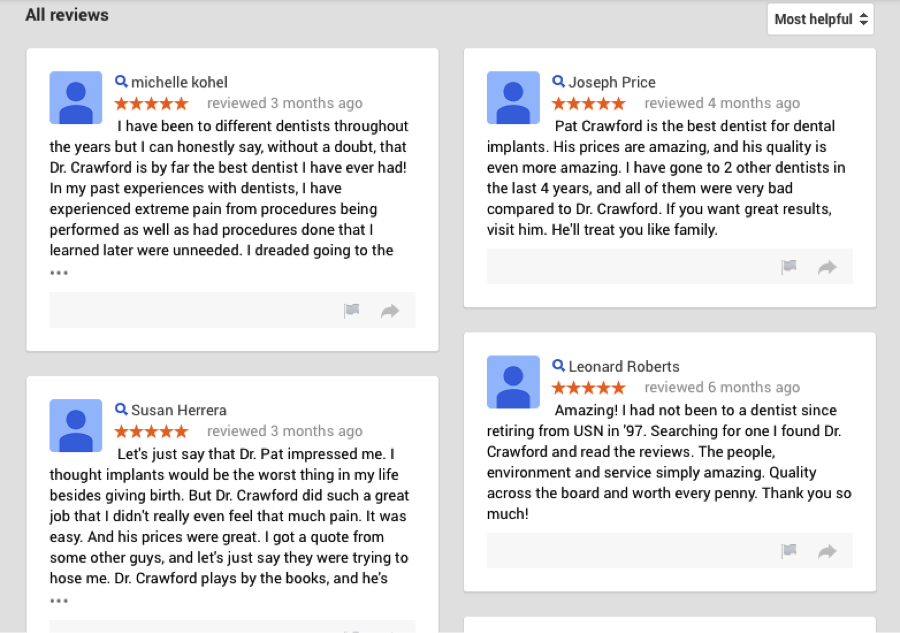 When it comes to finding the best Kenosha dentist, Pat Crawford DDS goes above and beyond to make sure that his patients are comfortable and knowledgeable about dental hygiene. No matter what type of dental work you need done, Dr. Crawford's practice is second-to-none in terms of quality care and expedient service. Here are some of the things that Dr. Crawford's patients say about him and his dental service, though Kenosha dentist reviews.
No matter what type of work you need to have done, Dr. Crawford has an extensive amount of knowledge with varying dental procedures. Patients who have needed dental implants, crowns, bridgework or any other type of reconstructive dental work continually commend Dr. Crawford on the care that he puts into each of his patients overall health.
Furthermore, Dr. Crawford does his best to ensure that patients do not feel the pain of getting dental work. Unlike other dentists, the care that Dr. Crawford puts into his patients is to make them feel comfortable and painless during the entire process. If you feel as if other Kenosha dentists are just looking to quickly operate on your mouth, without any regard for your wellbeing, then consider how Dr. Crawford can help you.
One of the areas of expertise that Dr. Crawford focuses on is emergency dental work. Everyone who has ever had a dental emergency knows how difficult and painful it can be to have it seen to. Not only are dental emergencies painful to deal with, but trying to find a reliable dentist to work with in a hurry can often be equally as much of a headache. But when you see the amount of Kenosha dentist reviews that give Dr. Crawford 5-stars, you know you are in for a reliable treatment. This can ease any concerns that people have, which may be apparent when looking to other dentists in the area.
Having a beautiful smile can change the way you feel about yourself and the way people treat you. After all, a smile can portray how you feel or what type of mood you are in. If you feel as if you don't smile enough or that your teeth are holding you back from being perceived how you would like, you can join the others who have trusted Dr. Pat Crawfrod with their oral care. Patients who have had cosmetic dental procedures completed with Dr. Crawford continually praise him for his excellent workmanship and his fair prices.
When it comes to finding the best Kenosha dentist, the reviews don't lie. A quick search of Kenosha dentist reviews will show that Dr. Crawford has all 5-star reviews for feedback regarding his service. The only way to achieve such high marks is to ensure the utmost satisfaction to clients, which can be seen through Dr. Crawford's work.
Whether you have accidently chipped or cracked a tooth, or you simply are looking for general oral care, Dr. Pat Crawford DDS is the obvious best choice for you to consider. Through reading the Kenosha dentist reviews, it's easy to see that Dr. Crawford will give you the care and attention that you need, from a dentist you can trust.