You may have heard of CEREC crowns, but what are the pros and cons of CEREC? Most patients expect getting a crown for a tooth to be a long process. Because the majority of dentists require their patients to be fitted for a crown in the office, then send the information off to a specialized laboratory to have the crown made, it can be tedious! However, thanks to a technology called Chairside Economical Restoration of Esthetics Ceramic (CEREC), you could have your crown in the time span of a single visit.
CEREC Is Not New, But It Is Relatively Rare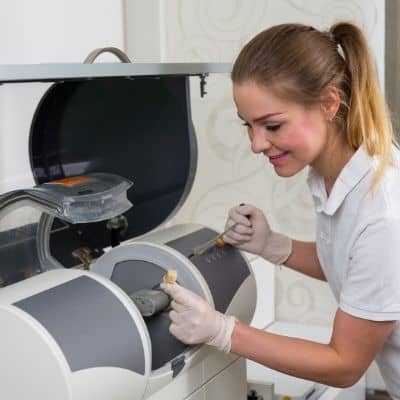 Although CEREC was developed more than three decades ago and is used around the world to fit patients quickly with the crowns they need, it is relatively unusual to find a dentist practicing this technique in the United States. The technology requires a certain degree of finesse, since dentists and dental techs must take a number of computer-generated images of the tooth in order to serve as a model for the CEREC process. Dental practitioners must learn to use CEREC software to create a computerized model, then use a milling machine to make an actual restoration, and then reshape, polish, and glue the new crown into place. This may only take about an hour, but the process is somewhat complex. Many dentists do not have access to the computers, software, or training necessary to use CEREC in their offices.
Most CEREC Reviews are Positive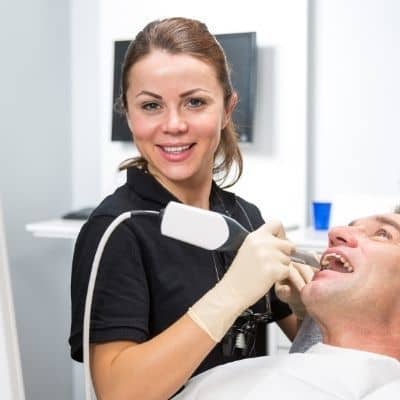 If you are looking for bad reviews of CEREC technology, you will probably be looking for a while. The process only takes about two hours, and the result looks and feels like a real tooth. CEREC restorations may last 15 years or longer, and the installation process is unlikely to leave your mouth sensitive. This last is a huge bonus for many patients – often they cite this as highly as the fact that the process is so fast. Most patients find that CEREC crowns end up being less expensive than traditional crowns as well.
The 'Cons' are Few and Far Between
When dentists survey their patients about the CEREC experience, most of the complaints revolve around a patient's ineligibility for the procedure. Patients who do not qualify for the faster and easier CEREC method tend to be the most critical, although traditional dental crowns do still deliver the feel and look of a regular tooth. The prolonged waiting period while the traditional crown is made and the sensitivity caused by temporary crowns necessary while waiting on a permanent, traditional option also cause patients who are not candidates for CEREC to complain.
CEREC Leads the Way in Offices That Offer It
On the whole, very few patients opt for traditional crowns if they can have CEREC crowns instead, especially when they find out that the technology requires lots of photos to be taken rather than having to suffer through a nasty-tasting mold process. CEREC can be used to make crowns for dental implants, veneers, onlays, and inlays. Some dentists even use the technology to design orthodontic appliances! Dr. Pat Crawford, a leading dentist in Kenosha, Wisconsin, has made it a priority to offer CEREC to his patients. You can learn more at PatCrawfordDDS.com or by calling the office for a consultation.
Want to learn more about CEREC technology, you can watch a bridge being milled, watch this video: https://www.youtube.com/watch?v=dKcm-ZpZNiY