When you first hear that Americans spent $1.4 billion on tooth whitening last year, you might be wondering why we're writing a dental blog instead of tanning from a private island in Tahiti (spoiler alert: we don't have a private island in Tahiti). A number like $1.4 billion is staggering for just about any expenditure, so we thought it would be worthwhile to dig into that statistic and find out a little bit more about why people are spending that kind of cash to brighten up their smiles. 
The fact of the matter is that 4 in 5 people want whiter teeth, and 3 in 5 say that just having teeth a few shades brighter would significantly improve their self-confidence. With numbers like that, the financial outlay makes a little more sense. But what will really surprise you is that the billion-plus dollars in question were not spent with a dentist or other aesthetic professional who should be able to create predictable, fast results. Instead, consumers spent $1.4 billion on over-the-counter tooth whitening products. 
Does The OTC Approach Work?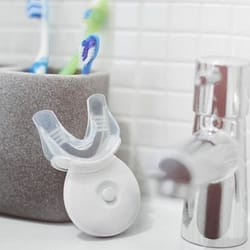 There are a lot of reasons that people opt for OTC tooth whitening instead of working with their dentist to get a whiter, brighter smile. The biggest reason is that most people don't really like to go to the dentist. According to a survey conducted by Colgate (yes, the toothpaste maker), about 40 million adults skip routine dental cleanings each year. So, the odds are pretty good those folks are not going to phone up the local practice to get help brightening their teeth, either!
People also tend to assume that OTC options are cheaper than in-office tooth-whitening options. However, the reality is that your dentist probably gets a better deal on more effective tooth-whitening products than you can get at your local drug store. In fact, we have many patients at Dr. Pat Crawford's dental practice in Kenosha, Wisconsin, who consult with our experienced techs in the office then do the actual procedure at home!
Pros And Cons Of Professional Tooth Whitening
When you really break down the pros and cons of professional whitening, you will see that there are a lot of benefits to getting the process done by an experienced professional. Those benefits include:
Fast-to-immediate results
Predictable results
Stain-specific treatments
Affordable treatment options
There are a lot of reasons that you might have stains on your teeth, including age, eating habits, smoking and drinking habits, and your personal health history. Probably one of the biggest benefits associated with having your teeth whitened in a dentist's office is that you will be sure that the whitening is tailored to the likely causes of your staining. Also, you tend to get results much faster. In a lot of cases OTC products could take 6-12 weeks to show results – and that is if you follow the directions perfectly and have selected the right product for your stains.
Of course, there are a few negatives associated with in-office tooth whitening. They are:
Dental anxiety
Time out of your day
Optional follow-up at home
If you are someone who has dental anxiety, we concede you may not really want to spend a lot of time at the dentist's office! Probably the biggest issue for most of our patients considering professional tooth whitening is that they feel anxiety around dentist visits (by the way, our office has a "cure" for that) or they do not want to have to do follow-up treatments at home. 
Whether you are an all-in-the-office type or a DIY type when it comes to your smile, getting a professional in on the action will result in much brighter teeth and better results!
Dr. Crawford offers tooth whitening consultations in his office in Kenosha, Wisconsin. Learn more about tooth whitening and find out what we can do to make your smile brighter by tomorrow by visiting our website at PatCrawfordDDS.com.