About 75 years ago, two U.S. cities started adding fluoride to their water in an attempt to determine if fluoridating the local drinking water would help their populations keep more of their teeth intact. After all, in the 1940s, thousands of would-be soldiers were actually rebuffed from enlisting because they failed to meet the requirements for the minimum number of opposing teeth in the mouth: six on top and six on the bottom. Just a few decades earlier, American dentists commonly sold full sets of dentures to teenagers so they would look presentable at graduation! The dental bar was very different then…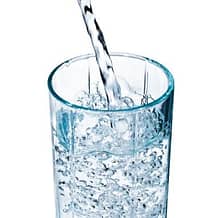 Fast forward to the present day and the results of those two metropolitan experiments reach nationwide (they improved dental health by 68 percent across the board in cities with fluoride). Today, more than 70 percent of Americans have fluoridated water and even more get a dose of protective fluoride in their soft drinks, which are made from fluoridated water.
In 2007, Grand Rapids, Michigan, actually erected a 33-foot-high sculptural tribute to fluoride in the water. The Centers for Disease Control and Prevention also named fluoridation "one of the top 10 public-health advances of the 20th century" at the end of the last century. Clearly, fluoride is a big thing.
But what, exactly, is fluoride for?
That is what most of our dental patients want to know. After all, as kids we all got fluoride treatments. Adults probably remember those Styrofoam trays and weird-tasting treatments. Today, kids look forward to having watermelon-flavored goo brushed on their gums instead. But why do it at all if it's in the water? What is the real point of this stuff?
The answer is simple:
Fluoride is a mineral found in your bones and teeth and can strengthen enamel and prevent cavities.
When you apply fluoride to the outside of your teeth, you can directly participate in the remineralization of your teeth. This results in preventing cavities and even reversing early tooth decay. Fluoride can also help teeth become resistant to acidic foods and can slow existing decay in both children and adults.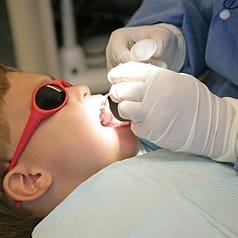 Because most adults use toothpaste that contains fluoride, many dentists do not require adults to get fluoride treatments during regular dental visits. However, since many children drink filtered water and most kids' toothpastes and mouthwashes do not contain fluoride, children often need additional fluoride treatments. That is why your dentist may have your child or teenager do a fluoride treatment when they come in for their regular visits. It is most important to get enough fluoride between the age of 6 months and 16 years, so after that you may stop getting the treatments. However, some adults can benefit from a fluoride treatment as well.
Wondering whether a fluoride treatment is right for you? Dr. Pat Crawford's practice in Kenosha, Wisconsin, can help you figure things out. Contact Dr. Crawford and learn more at PatCrawfordDDS.com.